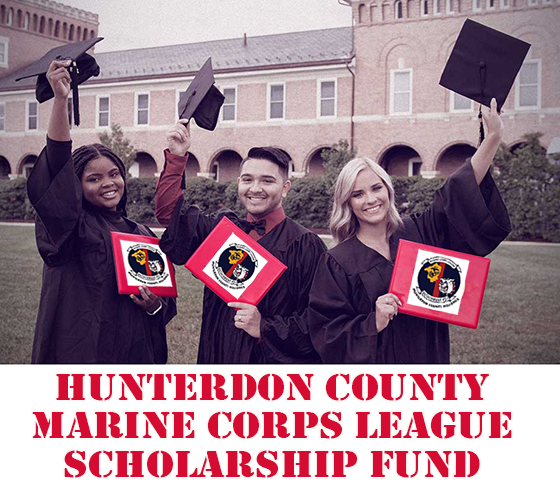 2024 Hunterdon County Bulldogs Marine Corps League Scholarship Fund
We are pleased to announce the Hunterdon County Bulldogs Marine Corps League is offering scholarships to qualified seniors who are pursuing a full-time degree program or certification/license of technical training at a full-time accredited institution in 2024.
Hunterdon County Bulldogs Scholarship Fund
We will grant $1,000 scholarships to 6 students graduating in 2024. One from each high school and one from the homeschool network in Hunterdon County, who meet the below qualifications.
These funds were raised through golf fees and sponsorships at the 2023 Hunterdon County Bulldogs Marine Corps League golf outing.
Kevin Patrick Bogle Scholarship Fund
In addition, we have an additional one-time scholarship fund of in memory of a Marine Kevin Patrick Bogle,1985-2022. Kevin was a USMC veteran, son, brother, uncle, friend and avid golfer.
These funds were raised through golf outing donations made in Kevin Patrick Bogle's name specified for this scholarship fund at the 2022 Hunterdon County Bulldogs Marine Corps League golf outing.
The best essay, out of all the qualified submissions received, will be awarded this one-time Kevin Patrick Bogle Scholarship in full. The scholarships will not be combined and granted to a singular individual; therefore, the committee will pull the next best essay/application from that school to receive the $1,000 Hunterdon County Bulldogs scholarship.
Qualifications
Applicant must be graduating in 2024 from one of the following high schools:
Hunterdon Central Regional High School
North Hunterdon Regional High School
South Hunterdon Regional High School
Voorhees High School
Delaware Valley High School
Home school student who lives in Hunterdon County
Additional Criteria: Applicant must be an immediate family member of an active duty, reserve duty, honorably discharged veteran of the United States Armed Forces. Immediate family relationship is described as a spouse, parent, stepparent, foster parent, father-in-law, mother-in-law, grandparent, brothers, sisters, brothers-in-law, sisters-in-law, aunts, uncles, nieces, nephews, and first cousins, the child of an aunt or uncle.
ALL APPLICANTS MUST COMPLY WITH THE FOLLOWING REQUIREMENTS:
Fill out all sections of the application.
A copy of transcripts or home school equivalent with cumulative grade point average and high school guidance counselor's/home schooled parent signature must be included with your application. Must have a cumulative grade point average (GPA) of 3.0 or better.
Attach a copy of the service members proof of service, DD214, discharge certificate.
Please provide a 500-word essay describing your program of study, your need, your relationship to the veteran and what their service means to you.
Ensure that the information provided is correct, accurate, and legible.
Only completed applications / packages as defined will be considered.
Qualified applicants will be evaluated by the scholarship committee.
 All decisions made by the scholarship committee are final and will not be subject to review.
 All applications will be the property of the Hunterdon County Marine Corps League and will not be returned to the applicant.
The Hunterdon County Marine Corps League may request to present an awarded scholarship to the recipient at any awards ceremony that may be scheduled at the current institution.
Deadline for application is May 1, 2024.
If you have any questions or concerns, please contact:
Mary Soldano
Scholarship Committee
Hunterdon County Bulldogs Detachment #927
Marine Corp League
908-200-9611
[email protected]