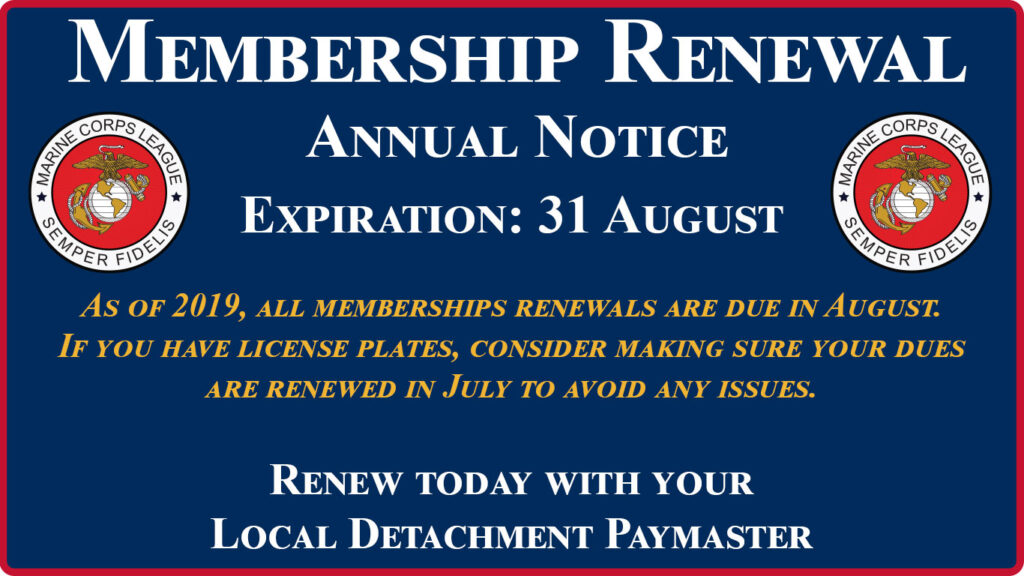 All annual Marine Corps League memberships need to be renewed by 31 August to stay in good standing.
Annual renewal fee is $34/year.
If you are interested in purchasing a life memberships, below are the current rates. National has mentioned many times it is going to vote to double these rates at the National Convention in August.
Current Life Membership One Time Fees:
Up to Age 35 – $500.00
36-50 – $400.00
51-60 – $300.00
61 and older – $200.00
 If you are interested in a life membership, this may be the last time to get these lower rates. 
You can pay your membership renewal or purchase a life membership in 1 of 3 ways:
Pay by check, cash or money order at the next membership meeting
Mailing check or money order. Checks/money orders should be made out to:
Hunterdon County Bulldogs MCLMail payment to:PO Box 2222
Flemington NJ 08822
Pay online for a small transaction fee. Click this link to pay online.