ATTENTION MEMBERS:
LIFE MEMBERSHIP FEES ARE DOUBLING EFFECTIVE 1 JULY
I'm sending this notice early this year to give any members who wish to pay for life membership the opportunity to get in at the old rate. If you are interested in purchasing a life memberships, below are the current rates.
Current Life Membership One Time Fees:
Up to Age 35 – $500.00
36-50 – $400.00
51-60 – $300.00
61 and older – $200.00
If you are interested in a life membership, this may be the last time to get these lower rates.
National is officially doubling these rates effective 1 July, 2023. The Life Membership is only available if the member's annual dues have been paid and the member is in good standing. Any member desiring to pay their Life Membership Fees at the current rate, must do so and be post-marked no later than 30 June 2023. Any Life Membership payments after that date will be at the new rate. Life Membership dues must be paid through your local detachment; submitted with the applicable member transmittal form by you paymaster.
Effective 1 July 2023, the Life Membership Fees will increase as per the following chart:
$1000.00 – 35 years of age and lower
$ 800.00 – 36-50 years of age
$ 600.00 – 51-64 years of age
$ 400.00 – 65-84 years of age
$ 100.00 – 85 years of age and higher
Annual Membership Renewals
As always, membership dues can be paid annually. These rates are not increasing. All annual Marine Corps League memberships need to be renewed by 31 August to stay in good standing. However, I strongly encourage you to renew by end of July or by the beginning of August so that I can get the renewal into National by 31 August.
Annual renewal fee is $34/year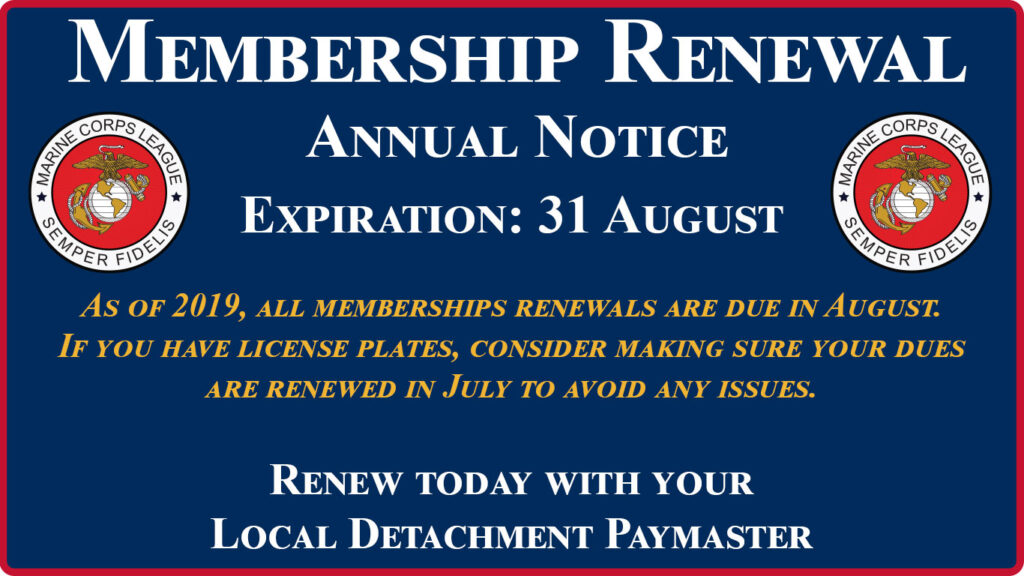 Payment options
You can pay your membership renewal or purchase a life membership in 1 of 3 ways:
Pay by check, cash or money order at the next membership meeting
Mailing check or money order. Checks/money orders should be made out to:Hunterdon County Bulldogs MCLMail payment to:

PO Box 2222
Flemington NJ 08822

Pay online for a small transaction fee. Click this link to pay online.
If you have any questions or concerns, please feel free to reach out to me via phone or email.
Mary Soldano
Adjutant/Paymaster
Marine Corps League
Hunterdon County Bulldogs Detachment #927
908-200-9611
[email protected]