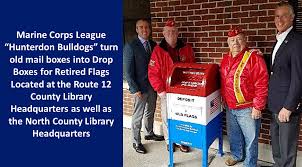 New Hunterdon County Flag Disposal Boxes
Kevin Cahalan and Sam Hall of the Marine Corps League Hunterdon Bulldogs Detachment 927 have turned old mailboxes into collection drop boxes for residents to retire their U.S. Flags.
The Hunterdon County Freeholders, in July, approved request to put the collection boxes at two County library locations.
"By turning old mailboxes into collection drop-boxes, Hunterdon County residents now have a respectful way to retire their worn flags," said Kevin Cahalan, an officer of the Hunterdon Bulldogs, who is also a U.S. Marine and veteran of the Vietnam War. "The U.S Flag represents the pride of our nation, those who have served, freedom, and our heroic battle to be an independent nation.
"Respectfully retiring those U.S. Flags that are worn, frayed or tattered with splendor and reverence expresses our pride in the historic U.S. flag."
Worn Flags deposited in the boxes will be collected and be properly disposed at a flag burning ceremony first started by the American Legion. Traditionally, the ceremony takes place on June 14, Flag Day.
"The U.S. Flag Retirement Ceremony represents dignity and proper respect for the flag and it is fitting that Hunterdon County, a Purple Heart Community, embraces and supports the respectful disposal of unserviceable flags," said Freeholder Director John E. Lanza.
Hunterdon County residents will be able to find the deposit boxes at the main County Library, at the Route 12 Complex in Raritan Township, and,  an additional deposit box will be available at the North County Library, 65 Halstead St. in Clinton.